Review of the Martelli Round About Set
Last year I purchased this rotating mat and today I would love to give you a review of the Martelli Round About Set.
I was participating in the Missouri Shop Hop last year when I purchased my set. And by the way…If your state doesn't have one of these, check out states who do! They are so much fun, and this year I hope to visit all the shops! It's great fun for a group of friends to do together!
I spotted this 17″ beauty in one of the Missouri quilt shops I visited and was in the market for a good rotating mat. I had a smaller Fiskars one and while it works ok – it was just that – OK.
I know Martelli makes very high quality items from seeing them demonstrated at quilt shows, but I wasn't really in the need for any of their products. However when I saw this Round About system I instantly knew this would be perfect next to my sewing machine. And I was absolutely right.
You'll get 3 pieces when you purchase the Martelli Round About system. A large base, cutting mat, and ironing pad. Let's talk about them!
All About That Base
My review of the Martelli Round About Set would not be complete without discussing the most important aspect! The rotating ability of this system. How can I sum this up? Well…
It's smooth as butter!
The base is nearly always the foundation of a great or mediocre product. Hint: This one is great! They use ball bearings on a large base to make the entire surface flat and stable which means it rotates oh so smooth. With other cutting mats you can have up to an inch or more overhang of the mat, making it impossible to use the full mat when cutting or trimming. Frustrating for sure. But not with Martelli.
The base is also covered with what I describe as a velvet like material. This allows the mat or the ironing board portion to grab the perfect amount and not shift when using it. I've used others that just are not as smooth and it has an effect on you ability to work well and quickly.
The quilt above is a free pattern called Silverstone. Check out the tips and tricks here and also grab the pattern!
The Cutting Mat
The mat is 17″ in diameter and marked very well with helpful squares and diagonals. It is thick, sturdy, and my rotary cutter makes easy breezy cuts on it. I can easily do my cutting while sitting at my machine.
Ironing Pad
DISCLAIMER: Martelli recommends that you remove the cutting mat when you iron. So my usage described below goes against what they recommend. Please use caution!
The yellow ironing board/pad is wonderful. It's slightly smaller than the cutting mat. It doesn't shift when using and I can easily press and cut when at my machine. I use the Steamfast iron, it's smaller than a traditional iron and perfect for this situation.
When I need to cut something I generally just move the iron and yellow pad to the side and I do not notice enough heat transfer to my work surface below to be concerned. Please use caution here. Everyones iron is different too.
Don't let the little indentions concern you. My iron had been setting there for a week or more and I just moved it for the picture. They iron right out and are not true "indentions".
Where to Purchase
You can grab it at Amazon, Fat Quarter Shop, or check with your local quilt store to see if they carry them.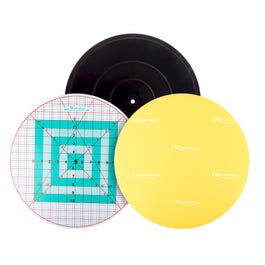 17″ Round-About Set | Martelli #RA-03
from:
Fat Quarter Shop
This system is also offered in a 10″ if you do smaller work only.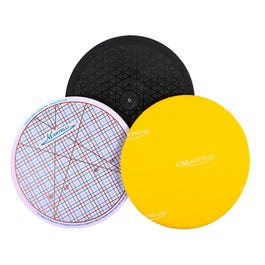 Mini 10″ Round-About Set | Martelli #RA-10
from:
Fat Quarter Shop
10 Out of 10!
All in all I absolutely recommend this be your rotating mat of choice. The ironing pad is a huge bonus I cannot live without now, and I would buy 10 more of these if I needed it. I feel this is very high quality and will last for many years to come. I paid around $149 for mine with no sale. It does go on sale from time to time and as of today, May 19, 2023, the price through Martelli on Amazon is $119.
I give this product 10 out of 10 stars and let me know if you decide to grab one too!