Silverstone Free Quilt Pattern
Let's discuss the Silverstone free quilt pattern provided to us by Robert Kaufman Fabrics and designed by Ariga Wilson.
First of all, this is an amazing beginner friendly pattern that utilizes chain piecing for ease and I'll show you how to match things up so that you get the results you want in your end design. Matching up your blocks correctly really helps you to feel accomplished at the end of a quilt rather than frustrated.
Choosing Fabric
Let's jump right in to this Silverstone free quilt pattern and talk about choosing a Layer Cake (10″ squares precut) for this project. I love that this pattern uses an entire Layer Cake with little left over! Take a look at my finished top.
(I apologize, I seemed to have lost my tag that told me the line of fabric this is, but it was older and is no longer available.)
I chose a layer cake that had very little white focus prints. In fact, mine only had two 10″ squares that were completely white. I decided rather than sprinkling in that random white amongst all the blocks, that I would make one white block as a design element to my top. I really like how it turned out. I'm a bit OCD at times, and the random white mixed in, along with my white centers, is not something I personally find aesthetically pleasing. I avoided that by making the 1 completely white block.
Keep that in mind when choosing your Layer Cake. What will your sashing and center block color be. You'll want it to stand out and not blend with your blocks. If it blends too much, you won't have a defined quilt block and the result can look a bit messy or disheveled. I do have some white background fabric with color on it, but it "reads" more of a color than it does white. If you zoom in you'll be able to find those blocks.
Cutting
Cut as many layers at a time that you feel comfortable with. Remember that a 60mm blade is easier to cut more layers than a 45mm. I am notorious for cutting too many layers, but this time I kept it within reason. I did about 5 at a time. This makes cutting go quickly.
Let's Sew!
Your first sewing will be sewing on your corner blocks. This is on page 3 of the pattern. I didn't get a picture of this, and that's ok, because the pattern gives great directions. Draw a diagonal line, or use a laser light if you have one equipped on your machine. (I bought this aftermarket one that works fantastic! https://amzn.to/3M6Aean Vivilux)
Sew directly on that line that you have drawn. Chain piecing makes this step go much faster. Cut your chained pieces apart, then trim each of your blocks. Use a smaller ruler to measure 1/4″ away from your line to trim. I keep a rotating mat next to my machine to do my trimming. Here is the one I use and I LOVE it so much. Having the ironing pad with it is wonderful.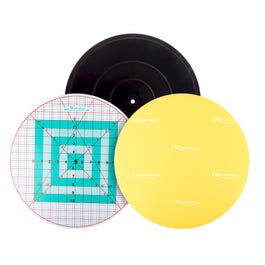 17″ Round-About Set | Martelli #RA-03
from:
Fat Quarter Shop
After you have trimmed, press the corner block out to make a new square with one white (or color of your choice) corner!
Making the Blocks
It's time to sew things together on your Silverstone free quilt pattern! This pattern does not require you to color match your pieces. I just put them in a pile and picked my colors at random. Now by random I do mean I wouldn't pick two green pieces to go next to each other. I did definitely try to keep like colors away from each other. You might not be able to do it 100% of the time, but I think you'll like the results better if you do.
Grab two of your blocks and match them together, RST. That's Right Sides Together. You'll want the corners matching each other. Make sure you match your lines up of your white corner blocks with each other and place a pin to hold into place. Sew your 1/4″ seam down the side, removing your pin before you sew over it.
Iron it to one side and you'll have something that looks like this. Do you see the flowered block is a little long where the white fabric is? That's ok. You can simply trim this if you need to. This happens and that's ok. Working with fabric after it's cut and manipulated, it can get out of whack a bit. You don't want them all to look like this – if they do you might need to adjust what you are doing and be a little more precise – but this will happen to even the best piecers out there!
TIP: Make a test block each time you start a new section of a block. Sew one and double check it is correct before proceeding with chain piecing.
Now that you have all of these complete it is time to join them together and get a glimpse of your final block! This is also where I choose wisely, but randomly so that my colors don't match each other.
Nesting seams is a very vital part of the process here. See how each half has a seam going one way, and one going the other? When we put them RST those seams will "nest" into one another and create a perfect point!
Plus you'll want to match your corners as well. Let me show you. Just like up above when you were pairing the two blocks, you want your white blocks to match up perfectly. Place a pin there, just past your nested middle seam, and the third on the other white corners to make everything match after you sew and iron.
This is how you want those white corner squares to match.
Now, this is the final result. BUT there is a very small oops if you will. I am purposefully showing this to you! See the left point on my white block? It's slightly off. Am I going to rip this out and do it over? Absolutely not. I do not make quilts for show, I make them to be given, used, and loved. Once this quilt is quilted and washed it will be crinkly and soft and this will NEVER be noticed.
Sashing
The next step is to add your sashing pieces to the blocks you've just made. Measure your blocks and make sure they are very close to your sashing size of 8.5″ long. If not you might need to adjust your sashing length. If you've used a proper 1/4″ seam allowance you should be pretty close. Measure at least 5 blocks to see if they are all close to 8.5″.
Layout your entire design and move the blocks where you want them! I always snap a picture and look at that. It is much easier to notice colors together or something out of place when doing this. Sew your rows together.
Now it's time to join the rows with another long row of sashing. You do want to pin this carefully so that your other sashing matches up. Let me show you. When pinning your rows together, match your blocks with each other and place a pin in the middle of the sashing.
FYI: Adding long sashing is a lot like adding borders. If you want to know more about adding them properly, check out my Free Resource Library for this helpful Mastering Methods – Borders the Right Way sheet! Click Here
Here I've already sewn on one of the long sashing strips. (bottom row in picture) Add the next row on top and match the seams as shown before pinning the edge to sew all these together. Do this along the entire row so that each sashing row matches the other. This brings a great cohesive effect to your finished top.
Continue doing so for all the rows. I found that sewing half the quilt rows together and then doing the other half of the quilt was easily manageable for me. Then you can sew the two halves together.
Enjoy!
Ta Da you've made the Silverstone free quilt pattern from Robert Kaufman and soon you will have a beautiful quilt to snuggle with! Great job!
I took one star off as I would always like to see a little more instruction when adding sashing and matching up rows especially when it is geared towards beginners. A well written pattern though, highly recommend!